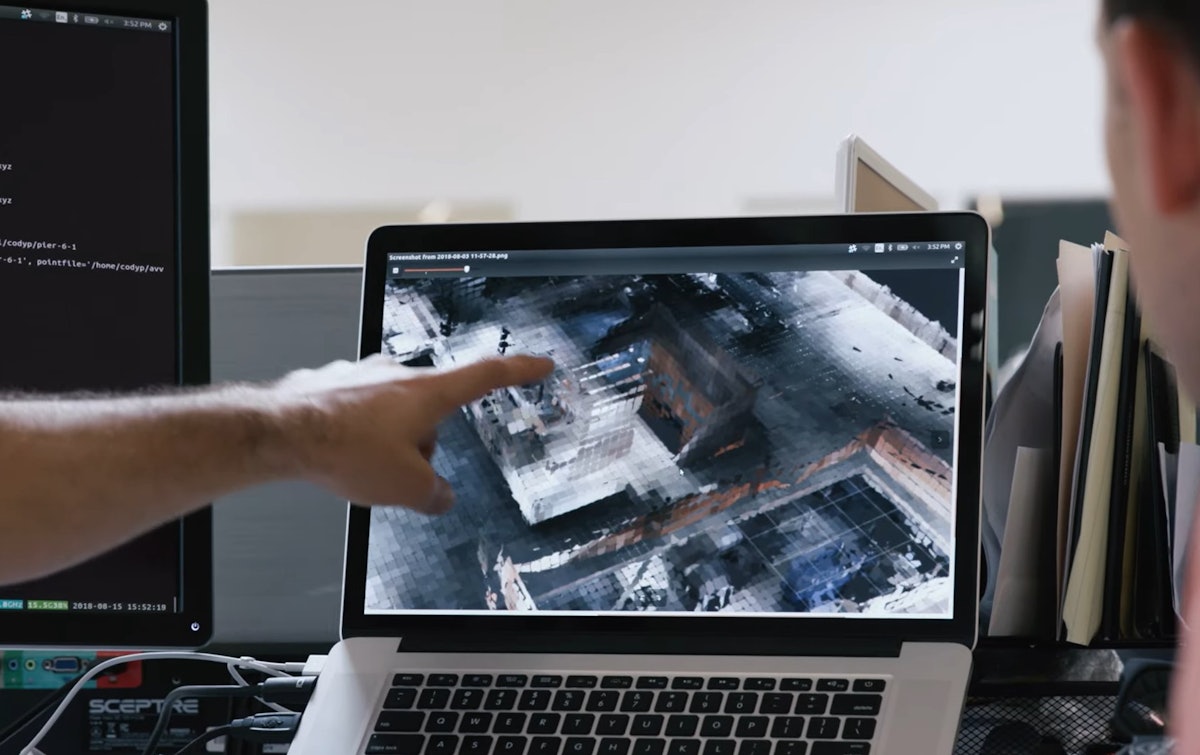 Avvir Augments Digital Twin for Construction with Data Capture Services
New York City-based construction reality capture and analysis platform vendor Avvir offers technology that uses artificial intelligence (AI) to marry construction photogrammetry with a building information model (BIM) to support progress tracking, measure value during construction, create as-built documentation, apply for payment and eventually support the overall lifecycle of the built asset.
The company announced February 7 that it is expanding beyond software to on-site services, using its internal staff and a network of vendors to collect photogrammetry data including 360-degree photos, Lidar scanning and drone imagery on behalf of their customers. In an interview with ForConstructionPros the day after the announcement, Avvir CEO Raffi Holzer said the established base of the company's software platform provides a channel of distribution for the Avvir Onsite service. Work will be performed by a combination of company employees and external vendors.
"It will be a combination, with our own people doing data capture in the New York Metropolitan Area where we have our headquarters," Holzer said. "We have a couple employees around the globe but also a network of partners. We have global capability."
Holzer said the company had been performing data capture work for several months prior to the official announcement.
"We want Onsite to stand on its own and be competitive with other providers in the market," Holzer said, stressing that software solution revenue was not being used to subsidize the services offering. "We are serving our existing software customers—that is the funnel. But in order to use our software, they need data reality capture. We want to recognize the commoditization of data capture—we want it to be ubiquitous. As data capture becomes easier and easier, we want to be a low-cost provider. We are not looking to play up talent as much as compete on price."
The Onsite service will be delivered by human workers, but the company is also evaluating automated technologies for data capture.
"We are exploring robotic data capture," Holzer said. "We have a good relationship with Boston Dynamics (partner with Trimble on the Spot construction robot). We are looking at autonomous drones from Exyn, a Philadelphia drone company. We have some robotic data capture at a few of our sites, but none of these are fully automated today. They still rely on human beings to do some element of data capture."
Other Parts of Solution "Human Engineered"
Avvir's solution continues to evolve since its founding in 2017. As the technology is developed to realize the vision of a fully automated process to create a digital twin for construction, the company relies on back-office employees to complete some tasks that will later be automated by its application. Yet other portions of the value chain are completed by partner software solutions, at least until the software develops the capacity to notch out those partnerships to streamline processes and reduce total cost of ownership for customers.
Once Onsite services capture 360 photogrammetry images, Avvir customers must pass them through solutions from one of two partners—Structionsite or Multivista—to get them into a format that can be married with BIM documentation for the project and built asset.
The ability to handle image ingestion is currently on Avvir's roadmap. Some background processes are still performed as services as opposed to through automation.
"We do ingest LIDAR today, but alignment and registration of those scans is not fully automated," Holzer said. "Our team goes through several steps on the back end to deliver that. It looks and feels automated to the customer, but the turn time is not as fast. Right now, it takes about 24 hours—we want to get under six hours."
Application for Payment, ALM, IoT on the Roadmap
As Avvir works to build out alignment, registration and ingestion of 360 degree images, Holzer has more aggressive goals on the company's radar screen that extend all the way through the lifecycle of the asset. But long before commissioning and handover and the operations phase, contractors need to get paid for work performed and here the Avvir solution already has a deep degree of sophistication.
"Where we see our core competency and our game changing ability is on the analysis side," Holzer said. "We also want to make data not just from images but from sensors and make that IoT (internet of things) data visible in the same application as the imagery and the BIM data.
Here, too, Holzer said Avvir would rely on partnerships.
"Photos and laser scans were always on internal roadmap and we understand them, but it is hard to build competency in every facet of the IoT environment," Holzer said.
The concept, according to Holzer, will be to connect the existing digital twin the company creates of an asset with data from sensors used not only during construction—for instance to monitor the curing of concrete, prevailing weather conditions that affect site safety or location of equipment or crews—but sensors that support operation of the finished asset.
"Today, we are largely focused on construction, but ultimately, our goal is to extend the usefulness of our model through the management and operation and maintenance phase of the building lifecycle," Holzer said. "This starts with an accurate as-built BIM. This can then serve as a detailed tool for what is going on in your built environment."
Currently, the company uses site data capture technology to among other things document construction progress, calculate labor productivity and to support application for payment including earned value reporting.
Here, the company may be ahead of others that address the application for payment process as the application can document which specific processes in construction are complete versus relying on percentage of completion. Earned value management processes used on large or government projects typically define discrete milestones and tie them to payment events, in large part to prevent vendors from over-estimating degree of completion. According to Holzer, the software can do both depending on use case.
"When we started, we made it a binary choice as to how a given project element was defined—built or not built," Holzer said. "But that does not work with some things and there you need a percent complete—like when project elements are hidden from photogrammetry by walls. With piping, each pipe could be built but not built—but what percent was completed? For interior walls, progress in creation of that box comes in five or six steps."
Over time, Holzer said he wants to evolve the product document progress even more thoroughly in support of the application for payment process.
"To truly support payment application, three groups of activities and things are needed," he said. "You need to account for the disconnect when a project activity is not modeled at the same level of detail they accrue value. We will want to document materials delivered to the site—these are not typically photographed—and we are solving for that by tracking transactions in ERP systems. There are also those activities with no physical or visible component—like wires in conduit invisible to cameras. Our intention is to solve that later this year with a mobile app where people can self-document those type of activities and feed them into our system."
BOTTOM LINE: Avvir is using services to augment its offering by entering the data capture space and as a bridge to building out elements of the solution in orienting imagery to a BIM behind the scenes. Both are innovative approaches to meet long term needs in the case of data capture as well as temporary ones as image ingestion features come together. Other companies are working to deliver similar solutions, including the marriage of IoT and photogrammetry into the same view. But it is in the granular approach to measuring earned value that Avvir may have a well-defined advantage in the market.
http://www.forconstructionpros.com/construction-technology/article/22043702/avvir-augments-digital-twin-for-construction-with-data-capture-services