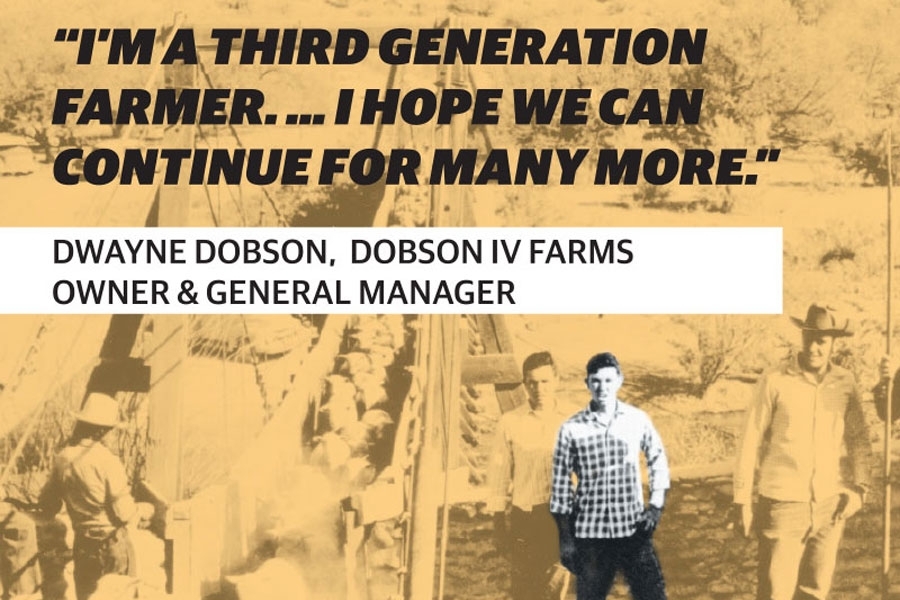 Chandler history shows shift from agriculture to technology
Julie Murphree said she spent the first five years of her life on a farm in Chandler.
She said she remembers living across from the main home on the property in the early 1960s and playing in the nearby water canal with other children when it was empty. Now an adult, Murphree said she cannot pinpoint exactly where the house was—all of the major landmarks that signified its existence are gone.
The city of Chandler was once an agricultural hub for several decades in the 1900s, although it may be difficult to tell by looking at it now. Acres of farmland dissolved into business complexes, and the dirt roads have since been paved over.
As Intel and other figures in the technology industry moved to Chandler, the city began a change that would upend the family farms that had been a staple since it was founded. According to city officials, land zoned for agricultural use now makes up 960 acres of the city, compared to the 24,895 acres in 1976.
Intel now employs 12,000 people in Chandler, according to the city of Chandler Economic Division, and 23% of Chandler employees work in "high-tech industries," according to the Maricopa Association of Governments Employer Database and Bureau of Labor Statistics.
According to real estate business CoStar, the city of Chandler had 24.7 million square feet of existing industrial space in March. Another 28.7 million are dedicated to existing office and retail space. The city is now at about 93% build-out—meaning only a fraction of the city's available land is open for development. A majority of that land is being preserved for employment usages, according to city officials.
Many of the Chandler farming families, such as Murphree's, say the development caused them to seek greener pastures.
"There is sentimental value in Chandler, of course, but overall we liked that we could still farm as a family regardless of where it was," Murphree said. "We found opportunities, and that's what we focus on."
From sugar beets to semiconductors
The city of Chandler was founded in 1912. At that time, cotton, alfalfa and livestock were in high production, said Nate Meyers, curator of collections at Chandler Museum.
"You weren't growing food for your family or immediate group; it was cash crops," Meyers said. "That's how Chandler was for a long time."
At one point, Chandler was home to a sugar beet processing plant on Riggs and McQueen roads, which converted the vegetable into sugar.
In 1920, the city had more than 1,000 residents, according to the city of Chandler. Meyers said around this time, cotton underwent a major price drop, and many left the city in search of more profit elsewhere. However, the population increased again shortly after due to migrant workers fleeing the Dust Bowl. Meyers said some found what they were looking for in Chandler.
"It provided a workforce, and it stabilized the population that had been crippling away," he said.
By 1950, the city's population had doubled from its population at its founding to 3,800 people. Families, such as the Dobson family, had made a name for themselves in the agricultural space by this point.
Dwayne Dobson of Dobson IV Farms said he remembers navigating Chandler with his herds of sheep. He drove the sheep to various alfalfa pastures so they could graze, he said, and used public roads to do so. This meant contending with traffic from school pickups and drop-offs.
"We were going the same directions as the school buses," Dobson said. "Traffic could be an issue because the roads were narrow back then. If you wanted to cross the street you just had to wait for us to get through."
Dobson said development in the area led to changes on the farm, such as moving equipment and halting use of certain insecticides.
When Intel came to Chandler in 1980, Meyers said it came with a new workforce. Intel, now one of Chandler's major employers, was initially surrounded by farms.
Meyers said employees at the Intel facility and neighboring farmers had to learn to troubleshoot issues that they could not have predicted.
For example, Meyers said, the Intel facility artificially scented a chemical to smell like onions to alert workers that there had been a chemical leak. After repeated evacuations and no signs of a leak, workers discovered that a neighboring farm had been harvesting their onion crop at night to avoid the heat, setting off the alarm as a result.
As development continued, more farmers sold their land and moved elsewhere, Murphree said. The Murphree family sold their farm and moved to the city of Maricopa around the 1980s, and the Dobsons also sold acreage and bought land further south.
"Farmers are business professionals," Murphree said. "A lot of them realized the development was coming in and saw the writing on the wall."
Growing in Chandler
While the Dobsons may not have the majority of their farm operation in Chandler anymore, Dobson still lives in the city. It may look different now, he said, but it is still home. When he thinks about it, he said he still envisions the city as it was before the development.
"You can't take the farm out of the farmer," he said. "The history will always be part of it."
Chandler Planning Administrator Kevin Mayo said almost all of Chandler has been rezoned to meet the needs of the growing city.
"Chandler has always prided itself in a very robust citizen outreach process," Mayo said. "It made sure growth was done appropriately and not in a shotgun way."
Mayo said city officials were able to navigate concerns about development and lifestyle changes by notifying residents of new developments far earlier than required by state law. This is a practice still used today, Mayo said.
Economic Development Director Micah Miranda said the city's more recent target industries are automotive technology, aviation and aerospace, advanced business services, health care, high-tech manufacturing, IT and software. He said focusing specifically on these "industry clusters," even though it no longer includes agriculture, has given Chandler the ability to become what it is today.
"We can't be everything for everyone," he said.
As Chandler has found strength in its industry clusters, so have the residents. In 1990, the city's population was 90,533, according to the U.S. Census Bureau and Arizona Department of Economic Security. In 2020, that number rose to 275,987.
Despite the change in scenery, nods to the city's agricultural history are still present today. Some roads, such as Dobson Road, honor families such as the Dobson family for their contributions to the city.
Mayo said the city's Southeast Chandler Area Plan was created to maintain a connection to the city's agricultural history in a 14.5-square-mile area. According to a document from the city, this is done by maintaining low residential densities and honoring the city's roots by using "rural themes" in architecture.
Dobson said there is nothing to be done about development; he said he takes pride in knowing that his family has a legacy, which he plans to continue.
"I'm a third generation farmer, and we're on the fourth and fifth generations now," Dobson said. "I hope we can continue for many more."
Murphree, who considers herself to be a "glass half full" type of person, said she does not worry about the future for farmers in Arizona.
"There is less land to farm, yes, but we're triple what we could produce a hundred years ago," she said. "We will always have farming in Arizona."
https://communityimpact.com/phoenix/chandler/government/2022/05/25/chandler-history-shows-shift-from-agriculture-to-technology/