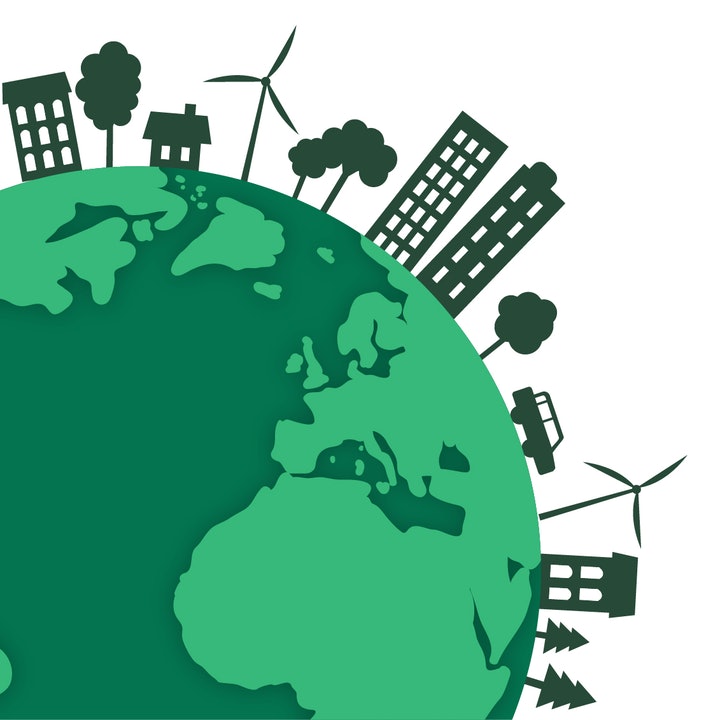 Green Construction Technology | For Construction Pros
Contractors striving to build greener and smarter—either to meet regulatory or LEEDS standards or to meet their own environmental, sustainability and governance (ESG) targets, should consider these subscription-based computer technologies.
Cloud construction software shields the environment
Right off the bat, running computer applications in the cloud is more environmentally sustainable than running them on-premise, so since these are all multi-tenant software-as-a-service (SaaS) products, they are automatically more responsible than software being run on a contractor's own servers.
Earth.org on its website describes how "A 2013 research paper, funded by Google, revealed that by moving commonly used software applications to the cloud, energy usage would decrease by 87%. Furthermore, cloud computing is a major enabler of both home and remote working, reducing the need for commuting and therefore decreasing emissions."
Amazon Web Services, where much of the cloud software coming to market for construction is provisioned, has published research that their cloud is 3.6 times more energy efficient than enterprise data centers in the United States and up to five times more energy efficient than the typical enterprise server farm in the European Union. Google Cloud is also powered using renewable sources, while Amazon Web Services is on track to meet that goal by 2025.
Oracle Cloud also anticipates being powered 100% by renewable energy by 2025, but in the meantime 59% of electricity use at Oracle data centers worldwide comes from renewables, and customers can opt to be housed in 100% renewable data centers in Frankfurt, London and Amsterdam. These all-renewable data centers do tend to rely on biomass, which some critics point out still produces greenhouse gas.
Contractors running enterprise resource planning (ERP) or other business software on-premise can quickly reduce their environmental impact by either moving to a multi-tenant software-as-a-service (SaaS) software product or doing a lift-and-shift of their business software to a hosted environment. According to Accenture, migrations to public cloud also result in up to 30% to 40% reductions in total cost of ownership, and overall have the potential to reduce CO2 emissions by 59 million tons per year—the equivalent of taking 22 million cars off the road.
Green Badger Streamlines LEED Certification
But the discipline of construction itself is also becoming greener, and with ESG performance becoming a factor in commercial lending and vendor selection, LEED certification will become even more desirable. According to the U.S. Green Building Council, a project team earns points towards LEED certification by adhering to prerequisites and credits that address carbon, energy, water, waste, transportation, materials, health and indoor environmental quality.
Documenting and tracking adherence and points accumulated is an administrative time sink though, which is why Savannah, Ga.-based Green Badger offers its SaaS application to contractors who want to reduce the time spent on LEED administration by 65%.
"Green Badger is a building intelligence for green construction compliance," Green Badger CEO Tommy Lindstroh said in a briefing call with ForConstructionPros. "We work with generals, and they are often siloed in their operations. They might have 30 offices, all of which operate independently. The software lets teams collaborate together, working together in the cloud instead of fighting over a spreadsheet. Without Green Badger, teams will have to manually track product-based and inspection-based data in five to 10 different spreadsheets. LEED requires them to document and substantiate everything you do, including volume use and practices."
The multiple data submittal requirements of a LEED project can mean a lot of duplicate administrative effort, which Green Badger helps eliminate.
"For multiple submittals, we help our customers skip a step by providing a product database," Lindstroh said. "So if a metal stud is called for in the design, a contractor can search metal studs and see the identified green attributes each product has."
Other features include a real time project dashboard, a mobile app for real-time creation of reports for things like Indoor Air Quality (IAQ) or Erosion and Sediment Control (ESC) plans.
The application, which runs on AWS, is useful to any contractor or building team involved in LEED-certified projects.
"We have done everything from a 1,500-square-foot retail store fitout to La Guardia Airport," Lindstroh said. "Most are federal and state level projects—if a contractor is building any type of project with public money—a police station or airport or courthouse—it still has to track all this."
Lacking an application like Green Badger, many contractors will hire third party compliance consultants that according to Lindstroh can come at 10 times the price of the software.
"We are going to change hearts and minds to get away from the status quo," Lindstroh said, adding that the company had some work to do in order to become more interoperable with other products. "We have some light integrations with Procore and Autodesk, but we need to expand those integrations. Our current integration is an embedded dashboard in Autodesk BIM 360 and Procore. Next, we need to become more active pushing and pulling data across platforms."
cove.tool Marries Cost and Performance Data
Atlanta-based cove.tool, a web-based platform for analyzing, drawing, engineering, and connecting data for building design and construction allows architects, engineers and contractors to measure and compare a wide range of building performance metrics, from energy, embodied carbon, to daylight and more. According to the company's own tracking, the product helped save more than 28 million tons of CO2 last year.
The cloud-based application includes functionality for drawing, load modeling and quoting, as well as an application programming interface (API) tool that connects to daylight, glare and energy simulations.
According to cove.tool CEO Sandeep Ahuja, the software helps bring architects and engineers and contractors onto the same page, particularly when it comes to the impact of certain environmental design features on project cost.
"The architects or engineers may specify a window product that is no longer available, or maybe the cost is high and it blows the budget," Ahuja said. "Typically, what the contractor would have to do is send a change order, and then wait three to four weeks as architects or engineers run a simulation in the background to see if it still works for daylighting and energy performance. Now, with cove.tool, the contractor can determine if their replacement will meet the energy requirements right away."
For contractors, the tool, which resides on AWS, is most often used in the preconstruction and estimating phases, resulting in a collaborative process that quickly ensure specified products and systems comply with the construction budget.
"The product brings together previously siloed workflows," Ahuja said. "Typically, an architecture and engineering team is running performance modeling to meet the energy code or local regulations, not running them through cost parameters."
What cove.tool does is for the first time bring environmental performance criteria and cost data together on the same pane of glass for decision support during design and construction.
"There has been no way to optimize the cost—contractors have been doing the process manually and doing it very inefficiently. Today, specifying decisions cannot be made by looking backwards at five roofing or glazing options based on what worked before. But this is how decisions have been made—by relying on past experiences. This does not work anymore because of regulation."
While the software can help balance cost and performance for individual building components, it can also provide an overall view of the project to determine what must be done and what can fall by the wayside without sacrificing environmental performance or compliance.
"If I am using really green lights, maybe I can cheap out on the insulation," Ahuja said. "The software can present the flip side of it, helping contractors think about the return on investment for each environmentally responsible technology both in terms of dollars and performance."
WINT Prevents Water Waste
Water leaks and internal plumbing during and after construction can bring a construction project to a halt, require expensive rework and result in costly litigation. Founded in 2011, New York City-based WINT develops AI-driven systems used on major projects to save water, reduce consumption, and prevent water leaks. The advanced algorithms that drive the application can detect a leak and send up an alert, and then shut water off as the situation worsens.
The product set is comprised of a cloud-based AI application on AWS and an edge unit. The edge unit consists of a standard off the shelf water flow meter and electronically-controlled valve and a proprietary control unit from WINT that connects valves and meters and processes the data from the meter in real time. The algorithms that spot anomalies in water flow and trigger alerts and water flow stoppages reside on this edge unit.
The cloud component of the software lives on Amazon Web Services and communicates with the edge unit over a cellular signal. In our debriefing call, Dycian told me the technology did not support alternative means for connecting the edge unit to the cloud, like a satellite uplink, but that the size of structures and projects the technology was used on meant cellular service was generally available. But the anomaly is detected by the edge device which can shut off water service without access to the cloud component, in the event of cellular outage. Ethernet or Wi-Fi connectivity is also on the roadmap, according to Dycian.
The AWS-based tech stack controls and manages the data, records it to strengthen the already deep data set the machine learning application relies on and enables users to configure triggers for alerts versus water shutoff.
While preventing leaks during construction is essential to contractors and stopping leaks post-handoff is critical to facilities managers, this AI-enabled cloud solution can also drastically reduce overall water waste.
"Twenty percent of water flowing into a building gets wasted." WINT Chief Product and Strateyg Officer Yaron Dycian said. "But that is an average. You have some sites where you can see 60% is wasted. It is never one, big crazy source. It is always a death by a thousand cuts. A few toilets and taps and a dishwasher, an irrigation system or reverse osmosis system—every one of them will leak and can drive up to 60% of your water consumption."
This water consumption has an environmental footprint that is significant in an era of peak water in the United States according to research by MacArthur Genius Fellow Peter Gleick.
"In some parts of the world, including the U.S., the demand for water is outstripping the supply, causing political disputes and economic uncertainty, and raising the specter of 'peak water," Gleick wrote. "Questions about resource availability and limits are not new … To be clear, "peak water" doesn't mean the U.S. or the world is running out of water. Overall, there is plenty of water on the planet and it is (mostly) a renewable resource. But there are serious physical, environmental, and economical constraints on water availability that make regional water problems increasingly urgent."
"The western part of the United States is suffering badly," Dycian said. "Lake Mead and Lake Powell are both drying up. Who is going to get water for Los Angeles or Las Vegas—nobody knows. The same is happening in Europe. The United Kingdom will be a water-stressed area in a couple of years."
But reducing water waste has implications apart from the fact that water is a precious commodity.
"From Lake Mead to Los Angeles is 300 miles," Dycian said. "We use enormous amounts of energy to get that water to consumers and users who then discard it. It is transferred to a sewerage plant, where the treatment process generates greenhouse gases. Methane is 300 times more impactful to the environment than CO2. In total, we are looking at 85 pounds of carbon emissions for every gallon used."
So water waste can be understood both in terms of water cost and total environmental impact.
"The cost of the water in one major cooling tower … over a year would be about $100,000. And the carbon impact is equal to flying 170 people from New York to London. One leaky toilet—how we deal with that is like adding or removing a typical passenger car from the road in terms of carbon emissions."
Cloud Construction Computing for the Environment
So just by moving their business software to the cloud, a contractor can knock back their carbon footprint. And the above and other tools on the market today enable them to manage their business and their customer projects in a more environmentally sound way. 
https://www.forconstructionpros.com/construction-technology/apps/article/22184977/green-construction-technology