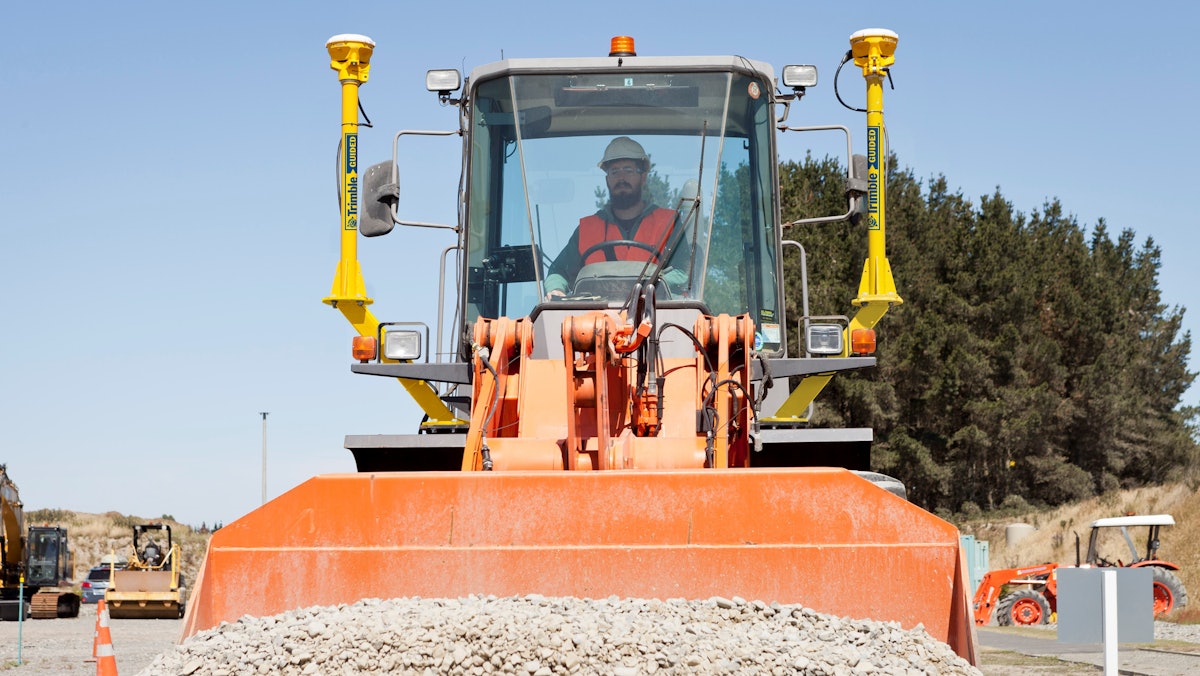 How Technology Can Help Contractors Do More With the Same Resources in 2022
Technologies such as machine grade control can enable inexperienced equipment operators to be productive more quickly. It can also enable skilled operators to be even more productive, meaning more gets done with the same tools and staff.
Trimble
I can recall early in my career as my publisher maneuvered around CONEXPO-CON/AGG with what was then the pinnacle of cellular communication. It consisted of a strap across his torso connected to a box the size of a toaster, which was in turn connected to a phone the size of a brick. Back then, this "mobile phone" provided a solution for making calls on the go. Fast forward to the devices we now carry in our pockets, which offer more functionality than most computers and solve a host of problems — whether it's finding and navigating to a restaurant, conducting financial transactions or even monitoring progress on a project. Technology has come a long way, propelled by demand for solutions to the problems we as a society face.
Construction has certainly seen its share of problems the past couple years, with a plethora of technologies emerging to try to solve them. Of course, the technology developments started well before the pandemic. But the challenges of COVID-19 accelerated both its entrance into the industry and its adoption.
While pandemic concerns eased on jobsites in 2021 (at least to a point), other challenges became increasingly prominent. We're all well aware of the global supply chain disruptions that emerged early in the year and steadily worsened. Bottlenecks piled on top of bottlenecks have held up equipment and materials needed to complete projects, driving costs skyward and even causing some jobs to be delayed or cancelled.
The source of the problem isn't simply the inability of suppliers to ramp up production quickly enough to meet demand. It's also the same problem this industry faces: lack of people. Worker shortages at ports, lack of drivers, insufficient workers to staff warehouses, etc., have made it difficult to get equipment and materials when and where they're needed.
Likewise, workforce shortages in construction have compounded the challenge of ensuring on-time, on-budget project delivery. And unfortunately, the struggle to fill positions is expected to worsen in 2022 given expectations of more construction activity with the infrastructure bill.
Technology to the Rescue?
Can technology solve the problems this time? Well, there are those who believe it can at least help. For example, technology such as grade control can enable inexperienced equipment operators to be trained more easily and become productive faster. And it can allow skilled operators to be even more efficient, meaning more gets done with the same machines and staff.
So, while tech can't offset the demand for workers, it could offer opportunities for companies to better utilize those they have by allowing them to get more done using the same equipment or by focusing more on project-critical tasks.
Technology is, after all, a tool. And as Tyler Parker, business optimization manager, Black & Veatch, noted in a recent podcast interview, "It's a bit of a misconception that you can replace a human being with a tool… you need people to make these tools function well and provide value. Our focus is on training and educating our professionals on how to best utilize these tools and then let them tell us how… to really add value with them."
The goal? "We want to maximize the potential of everyone on a jobsite," he said, "so that we can do more work with the trained professionals that we have."
https://www.forconstructionpros.com/equipment/article/21952701/how-technology-can-help-contractors-do-more-with-the-same-resources-in-2022