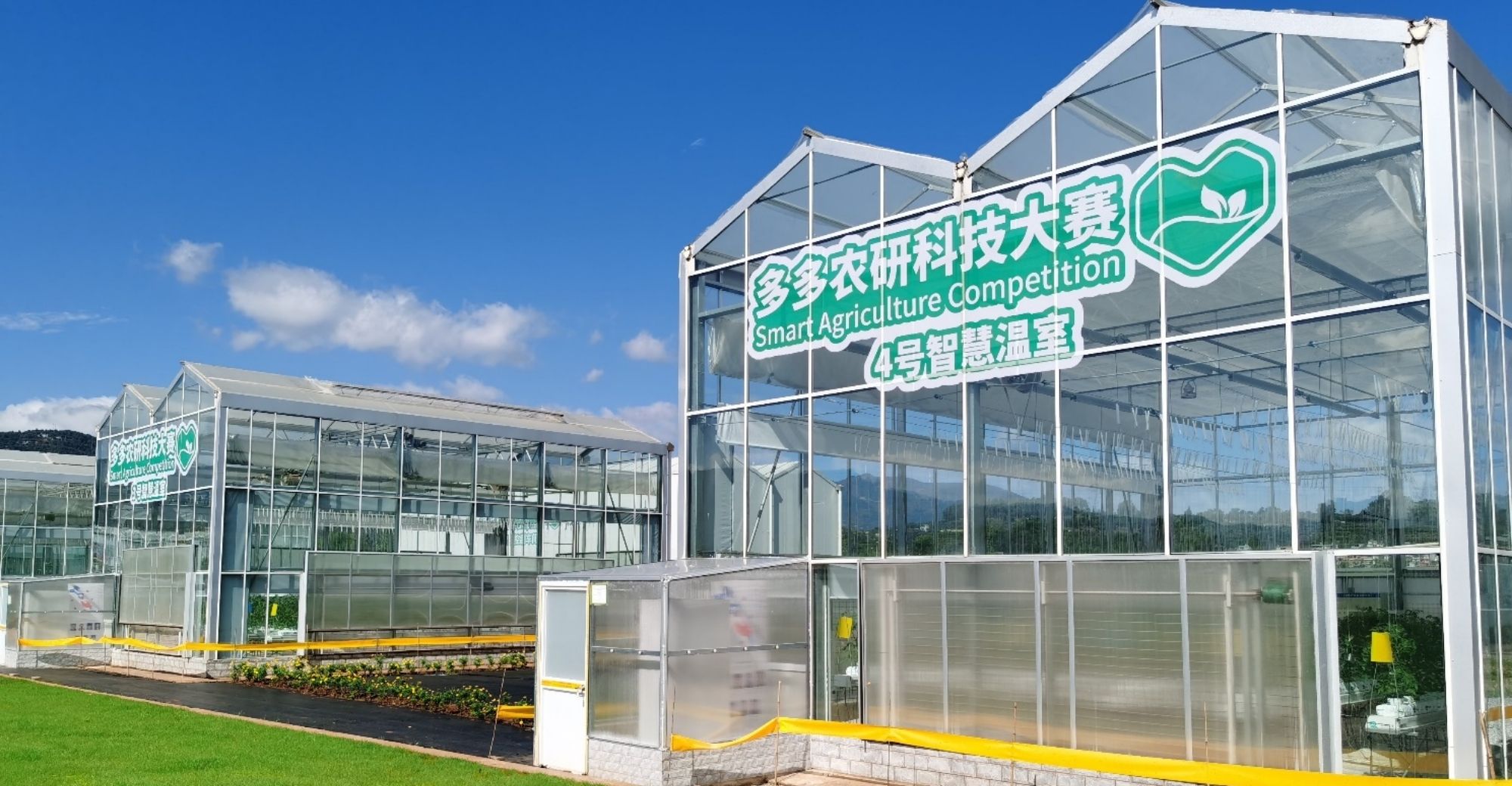 Pinduoduo Smart Agriculture Competition Winners Showcase Sustainable Precision Farming Technology – Pandaily
Your browser doesn't support HTML5 audio
Conventional smallholder agriculture often conjures up images of farmers bent over in the field with the sun beating down their backs, with oxen, horses or donkeys for company.
Both man and beast are largely absent in Pinduoduo's Smart Agriculture Competition, where teams of data and plant scientists handle the growing remotely through smart greenhouses located hundreds of miles away. They make decisions based on recommendations generated by smart management systems, which gather environmental and plant data from numerous sensors that are then fed into decision-making algorithms analyzing thousands of data points in real-time.
This picture of efficiency is no wizardry but a showcase of how advanced computing technologies like machine learning and computer vision can augment human agronomic knowledge. By creating automated turnkey solutions that are cost-effective and easy-to-use, the participants in the Smart Agriculture Competition are aiming to boost productivity and profit for farmers while lessening agriculture's environmental impact.
"The Pinduoduo Smart Agriculture Competition provides a unique platform to engage young people, technologists, innovators, the private sector and research institutions to co-create practical solutions to smallholder farmers' specific needs, and develop models of digital farming technologies that improve efficiency," said Carlos Watson, UN Food and Agriculture Organization's representative to China.
The Smart Agriculture Competition, now in its second year, is the work of lead organizer Pinduoduo, China's biggest agricultural platform operator, and part of its broader efforts to catalyze the adoption of productivity-enhancing technology among agricultural producers. Recognizing that smallholder farmers make up the bulk of growers in China and have limited financial resources to invest in technology, Pinduoduo has made cost-effectiveness a key judging criterion in the competition.
With about 80% of the participants in their 20s, the Smart Agriculture Competition has also become a go-to platform for young talented agricultural researchers to work on real-life "pain points" and develop practical solutions.
"We are impressed and inspired by their dynamic and talented creative use of digital technologies to increase crop yield and economic value," said Andre Zhu, Senior Vice President of Pinduoduo. "It is particularly exciting that some teams have begun to practice their experience and knowledge with traditional growers to provide more efficient and greener modern agricultural solutions to help traditional growers improve their quality and efficiency."
SEE ALSO: Experts at UN's FAO and Pinduoduo Webinar: Smart Agriculture to Drive Sustainability
To be sure, more still needs to be done before the innovations can transform farms into "smart factories" with the potential to increase employment opportunities and enhance access for young people and women, according to FAO's Watson.
Further breakthroughs are also needed in key technologies to make widespread practice of smart agriculture a reality, including navigation, data analysis, and farmland information, according to He Yong, Dean of the School of Biosystems Engineering and Food Science at Zhejiang University. More extensive use of high-resolution satellites, aerial drones, and ground-sensing instruments is also needed to build a fuller picture of crops at different growth stages, He said.
Many of the teams that took part in the Smart Agriculture Competition have plans to roll out pilot projects to test the robustness of their turnkey solutions at scale. Hamato and CyberTomato, two of the finalist teams with academic backgrounds, plans to promote their greenhouse management systems to growers across China to help boost productivity and reduce costs through improving efficiencies.
Hamato also developed low-cost and low-pollution carbon dioxide enrichment equipment that can enhance plant growth, as well as an image recognition system that has successfully detected biological diseases. During the competition, the team produced tomatoes that contained more than 50% higher levels of lycopene, amino acids and Vitamin C compared with conventionally cultivated tomatoes. "In the future, only one or two people are needed to manage a vegetable production area," said Zhu Changan, who grew up on a farm and is a PhD student at Zhejiang University and member of Hamato. "The days of toiling and moiling with one's face to the earth and back to the sky will be no longer."
https://pandaily.com/pinduoduo-smart-agriculture-competition-winners-showcase-sustainable-precision-farming-technology/