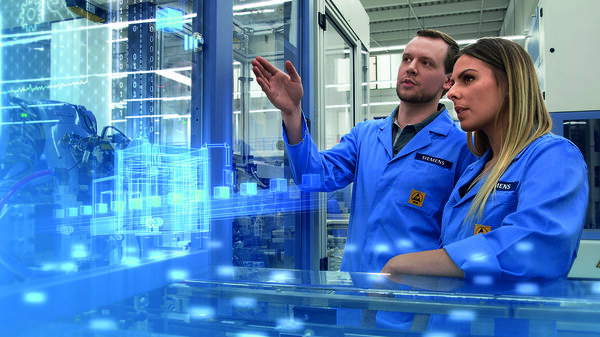 Siemens donates suite of digital engineering tools to Ohio University
Siemens
Borne out of a collaboration with Ohio University, Siemens, a diversified, multinational corporation and market leader in industrial transformation, will collaborate with Ohio University's Russ College of Engineering and Technology to give students and faculty access to a suite of digital engineering tools that will provide an advantage in both the classroom and the laboratory.
Siemens serves many market segments including digital technologies, electrification, and automation, with one of its many goals being to increase efficiency through greater adoption of digital technologies.
Siemens has a particular set of tools used by engineers focused on computer-aided design, process improvements, manufacturing plant optimization, cost estimation, life cycle management, and modeling and simulation. Collectively these tools are often referred to as Digital Engineering and the connections between the development, testing, manufacture, sustainment and disposal is referred to as a Digital Thread. The process of adopting these tools is often called Digital Transformation and it has multiple benefits, including increasing the pace of innovation, decreasing materials costs, and providing greater business intelligence for managers and executives. All of this work ties directly to the Air Force's Digital Transformation Campaign whereby they will be managing their weapons programs with ever-larger amounts of digital tools.
University and industry partnerships such as this collaboration between Ohio University and Siemens are mutually beneficial.
"As faculty, staff, and students at the Russ College of Engineering and Technology continue to pursue education and research excellence in digital engineering, it is critical that we build relationships with partners like Siemens," Russ College Dean Mei Wei said. "I want to extend my sincerest thanks to Siemens for their software donation, and I also want to thank my Associate Dean for Industry Partnerships Scott Miller and Senior Executive Director for Research Partnerships Mickey McCabe for their effort in making this partnership possible. We look forward to working with Siemens to train our students and address technical challenges in digital engineering."
McCabe and Miller saw an opportunity to collaborate with Siemens on OHIO's latest project, a Digital Design Studio where Air Force personnel, contractors, and Ohio University faculty and staff can collaborate on digital engineering projects. As currently envisioned, the studio would be located in the Dayton, Ohio region which is home to the state's leading defense, engineering, and technology firms. Locating the design studio near Wright-Patterson Air Force Base, the Air Force's primary hub for procurement and sustainment of its weapons platforms,  enables collaborative partnerships between the Department of Defense and Ohio University faculty and industry affiliates.
Through continued collaboration and relationship-building, the Ohio University team was able to assess the needs of Siemens and create opportunities for the company at the Digital Design Studio. In addition to this collaboration, Siemens donated licenses to Ohio University for students and faculty to use their suite of digital engineering tools on Ohio University's main campus in Athens. Having nodes of Digital Engineering capabilities in both the Dayton region and Athens will allow students and faculty to knit themselves into the Air Forces' Digital Transformation Campaign.
Dušan Šormaz, Ph.D., professor of industrial and systems engineering, has been using Siemens software both in the classroom and his own research for 10 years. Today, he collaborates with students to develop intelligent manufacturing process plans. Specifically, his work focuses on the creation of a digital twin, which is an interactive, virtual representation of a piece or product that is often used in testing, teaching and training.
"We want to show our students the latest tools that are available and have a competitive response to the market," Šormaz said about the significance of Siemens' tools.
https://www.ohio.edu/news/2022/03/siemens-donates-suite-digital-engineering-tools-ohio-university