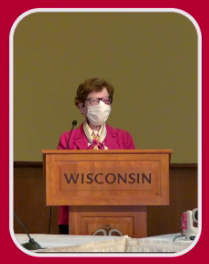 UW-Madison Chancellor Blank presents her final report to the Board (day 1 news summary)

MADISON, Wis. — University of Wisconsin–Madison Chancellor Rebecca Blank urged the audience at today's Board of Regents meeting not to take the success of the state's flagship university for granted.
"If we aren't working every day to maintain and grow this quality, it will start to erode.  Maintaining quality requires maintaining the support of the state and its citizens," Blank said. "As a public institution, top-quality research universities require bipartisan support across administrations, parties, and political environments."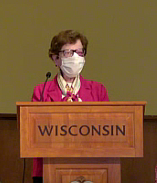 Blank, who has led UW-Madison since 2013, announced last fall that she would be departing the university at the end of the spring 2022 semester to become president of Northwestern University.
In leading the host campus presentation, Blank detailed some of the accomplishments over the last nine years, including expanding the quality, size, and diversity of UW-Madison's student body, while also improving financial aid and access.
The number of National Merit finalists enrolled at UW-Madison has more than doubled since 2013, while at the same time freshman applications have grown from 30,000 to 60,000 over that span. Blank said the university has been able to expand out-of-state enrollment with the help of revisions to the enrollment policy adopted by the Regents.
"These students add diversity and pay tuition at a rate that supports our programs and subsidizes our in-state students," she said. "This has been particularly important during a period when in-state tuition has been frozen for nine straight years."
Bringing bright, young scholars to Wisconsin is particularly important as the number of high school graduates in the state shrinks due to demographic changes, Blank said.
The university has seen a big jump in enrollment of students from historically under-represented groups, Blank said. In 2017, the freshman class included about 700 students from historically underrepresented groups. The fall 2021 freshman class includes more than 1,200.
"Twenty-five percent of our freshman are students of color, and 15 percent of our freshmen are students of color from historically underrepresented groups — an all-time high and up substantially from just a few years ago," she said.
At the same time, the university is enhancing campus life and serving students better than ever, with expanded advising and mental health services, new health/wellness facilities, and new majors that reflect student and employer needs and interests.
Efforts to expand the diversity of faculty have also been successful, Blank said. Over the last year, 31 new faculty of color joined UW-Madison, and 243 joined over the last five years.
"Great teaching, a strong campus culture and a constantly evolving modern curriculum is what attracts great students," Blank said.
In addition to making strides in education, the university has also grown its research mission, bringing in nearly $1.5 billion in funding.
"When I arrived, research expenditures were declining. We've worked hard to turn that around," said Blank, adding that research expenditures at UW in her tenure have grown 17 percent.
Continuing to grow research will require being strategic and targeting research areas that federal agencies are looking to fund, such as biomedical sciences, atmospheric sciences, education, data science, and quantum physics.
Key to pursuing those dollars is having top faculty in those in-demand disciplines, Blank said. Since 2018, a cluster hire program has allowed the institution to hire groups of 3-4 faculty in key areas of emerging research interest.
The efforts are paying off, Blank said. Industry dollars flowing into UW-Madison from corporate partners, which support not only research but also student scholarships and public service projects, increased by 60 percent between 2013 and 2020.
One example of the critical need for growth in both educational programming and research is computer sciences. In 2019, the School of Computer, Data and Information Sciences (CDIS) was created to respond to extraordinary demand from students, employers, and industry partners. Computer sciences is now UW-Madison's top major, jumping from 300 undergraduate majors five years ago to 2,100 presently. A major fundraising campaign is underway to fund a new building for the school.
All the accomplishments that UW-Madison has made over her tenure has required significant resources, Blank said. A greater emphasis on fundraising has been important to the efforts as state support has shrunk and in-state tuition for undergraduates has been frozen.
"We can't just wait for the state to give us more funding; If we want to maintain our quality, we have to be entrepreneurial, generating much of our own revenue for investment," Blank said.
Blank said one way to support UW-Madison would be to approve borrowing authority for capital projects. No other flagship university in the country lacks program revenue bonding. She also urged more institutional autonomy over building projects.
The nine-year freeze on in-state undergraduate tuition has placed UW-Madison, and other System schools, well behind the market, and will have a negative impact on quality the longer it continues.
Blank also warned that the divisive political environment in the state, and politicization of higher education, poses a threat to UW. She urged the board to actively engage with political leadership on both sides of the aisle when they criticize the university.
"This is not unique to Wisconsin; it is happening across the country," she said. "Where we once were a nation with high, bipartisan support for higher education and particularly public higher education, we are now a nation deeply divided along political lines on the value of universities."
Thanks to the help of the Regents and other supporters, higher education has made strides in quality in recent years. That support will need to continue to ensure the continued growth of UW-Madison, Blank said.
"If we're going to maintain our reputation and our quality, we need to continue to invest and grow in the right ways.  To do that, we need resources – and we will help generate those — combined with a smart strategy for the future. That will be the job of the new Chancellor."
Report of the Regent President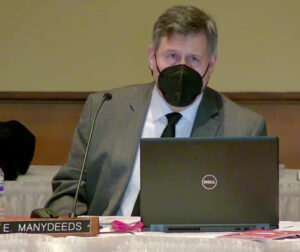 In his report to the Board, Regent President Edmund Manydeeds III provided an update on the recently launched search to find a successor to UW-Madison's Chancellor Blank. He noted that a 21-member Search and Screen committee, to be chaired by Regent Vice President Karen Walsh, has been named and officially charged with its mission.
Manydeeds reported that the committee has held a series of listening sessions with UW-Madison faculty, academic and university staff, students, alumni, and community members to hear their views on the qualities and characteristics to be sought in the next chancellor.
He said he expects a slate of recommended candidates will be forwarded later this spring to a Special Regents Committee that will include Regents Amy Blumenfeld Bogost, Mike Jones, Tracey Klein, John Miller, and Karen Walsh. Manydeeds will chair that committee. He anticipates a candidate will be recommended for the full Board's consideration in late spring.
Manydeeds also offered his official congratulations to Jay Rothman, recently approved by the Board as the next President of the UW System. He thanked Regent colleagues for their commitment and attention in helping to make this decision.
Noting that growing student enrollment and supporting student success are UW System and Board priorities, Manydeeds drew attention to a recent report from the National Student Clearinghouse Research Center, which found that 69 percent of students who started higher education at a U.S. public four-year university in fall 2015 had graduated by spring 2021.
By comparison, he said, 74 percent of those enrolled at a UW System university graduated in that same time period – five percentage points higher than the national average. He applauded the work of chancellors, faculty, and staff in this area.
Manydeeds also reminded Regents of the upcoming 18th annual Research in the Rotunda event on March 9. This event, which was cancelled last year due to COVID, showcases the outstanding undergraduate research being done all across the UW System. It is considered one of the UW System's signature and most significant outreach events.
Finally, with February being Black History Month, Manydeeds reiterated the longstanding support of the Board for advancing greater diversity throughout the UW System. "A diverse campus community – and the many ways that can be defined – is integral to fulfilling our primary mission, which is to provide a high-quality education," he said. "It is also vital, as events of the past year or so have shown, to help maintain a healthy society and strong communities."
Capital Planning & Budget Process Overview
Alex Roe, senior associate vice president for Capital Planning and Budget, told Regents her office is currently evaluating capital project submittals received for consideration as part of the 2023-25 Biennial Capital Budget as well as the six-year Capital Plan for 2023-29. UW System will present its consolidated capital budget in August 2022 and then submit it to the Department of Administration in September 2022.
Roe provided an overview of the process, evaluation criteria, and project definitions.
Education Committee
The Education Committee approved the continuation of a $0 application fee for new undergraduate admissions, as established in December 2020, to all UW System universities excepting UW-Eau Claire, UW-La Crosse, and UW-Madison. These three universities will continue to charge undergraduate applicants their current fees of $25, $25, and $60 respectively, although they retain the right to waive undergraduate application fees for student who meet financial hardship conditions.
In other business, the Education Committee:
Approved UW-Madison's request for a Master of Science in School Psychology, which will help meet the shortage of school psychologists in Wisconsin and nationwide;
Approved UW-Madison's request for a Doctor of Philosophy in School Psychology;
Approved UW-Madison's request for a Bachelor of Arts and Bachelor of Science in Information Science, as part of the School of Computer, Data & Information Sciences (CDIS) expansion project. Unlike other technically focused computer science and data science degree programs, the proposed degrees combine curriculum in applied computing and applied analytics with a liberal arts curriculum;
Approved UW-Milwaukee's request for a Bachelor of Science in Data Analytics. The program is designed to meet the growing demand for professionals with data analysis skills in fields such as natural sciences, social sciences, geography, information science, and technology;
Approved UW-Milwaukee's request for a Master of Science in Data Science. In a unique feature of this degree, students will have the opportunity to pursue analytics electives related to their primary discipline of interest via courses offered in multiple disciplines;
Approved UW Oshkosh's request for a Bachelor of Professional Studies in Leadership and Organizational Development. The program, which is targeted toward working adults, will prepare students to climb the career ladder into positions such as general manager, manufacturing leaders, administrative services managers, facilities managers, and business unit managers;
Approved UW Oshkosh's request for an Executive Master of Business Administration. The executive version of the MBA is designed for individuals with significant experience in professional careers, often already working at leadership levels;
Approved UW-Whitewater's request for a Bachelor of Arts and Bachelor of Science in Professional Writing and Publishing, blending theoretical and technical training with an emphasis on transferable skills and project-based application studies;
Approved UW-Whitewater's request for a Master of Science in Applied Kinesiology, elevating two current emphases in the Master of Science in Education-Professional Studies program: Health, Human Performance and Recreation as well as the Health, Physical Education and Coaching;
Approved UW-Whitewater's request for a Master of Science in Education in Early Childhood Education Policy to meet a dire need for early childhood education advocacy in the larger legislative and education policy arena;
Approved UW-Milwaukee's proposal to realign eight existing schools, colleges and their programs into four new colleges. The existing School of Architecture and Urban Planning, Peck School of the Arts, School of Education, School of Information Studies, Helen Bader School of Social Welfare, College of Nursing, College of Health Sciences, and Joseph J. Zilber School of Public Health will be reorganized into the following four colleges: (1) College of Architecture and the Arts; (2) College of Applied Social Sciences; (3) Joseph J. Zilber College of Public Health; and (4) College of Health Professions and Sciences. The College of Health Professions and Sciences will include three new schools: School of Nursing; School of Rehabilitation Sciences; and School of Biomedical Sciences;
Approved two new transfer programs between UW-Stevens Point and Northcentral Technical College: a Liberal Arts Transfer Program for the Associate of Arts in Liberal Arts and a Liberal Arts Transfer Program for the Associate of Science in Liberal Arts;
Approved changes to Regent Policy Document 4-10, "Class Audit Policy." The proposed policy revised the term "audit-only enrollee" to "guest auditor" to refer to non-degree seeking students. It retains the fee structure and conditions for auditing a course of the current policy for guest auditors. The policy also simplifies requirements related to degree-seeking students to state that degree-seeking students who enroll in a course as an auditor are subject to institutional academic and fee policies;
Heard a report on application fees and waivers as required by Regent Policy, including a report on total revenue that application fees brought in at each university for undergraduate, graduate and professional programs;
Heard a UW-Madison presentation on "Student Academic Success, A Team Effort," highlighting sometimes unsung heroes: the academic planners, advisers, staff at the university's learning and tutoring centers, and the professionals at the new Center for Teaching, Learning & Mentoring, who help instructors hone the craft of teaching;
Heard a presentation on a UW System STEM Transfer Initiative with the Wisconsin Technical College System, which introduces guaranteed credit transfer pathways for STEM degrees in high-demand areas such as biology, chemistry, and computer sciences. The initiative, which builds on the expansion of the University Credit Transfer Agreement signed last year between UW System and WTCS, is funded by a $1 million grant from the Howard Hughes Medical Institute; and
Heard an update on the EAB Navigate/Academic Planner Pilot Program. The Navigate Project is a key student planning management tool that UW institutions are incorporating into their student success and advising programs.
Business & Finance Committee
UW-Madison's Interim Vice Chancellor for Finance and Administration Rob Cramer led the presentation, "Strategic Investments—Opportunities and Challenges for UW-Madison." Cramer noted that recent revenue growth at the university has been driven by increases in enrollment (including strategic growth in summer sessions and professional programs), philanthropic support, and research and development.
Cramer told Regents that UW-Madison's current focus is on innovative opportunities in real estate, cash management, corporate engagement, and the realization of savings through administrative efficiencies and facility modernization. He said these gains will allow for reinvestment in key areas such as student financial aid, faculty compensation, and academic support services.
In other business, the Business & Finance Committee:
Approved the UW System Status Report on Large or High-Risk Information Technology Projects. The report detailed 14 major IT projects within the system, including three that have been fully completed since the last report in August 2021. The total project portfolio is $269 million, most of which is allocated to the Administrative Transformation Program;
Approved the report on the Strategic Plans for Major Information Technology projects, which included an inventory of all ongoing and new projects, both enterprise-wide and institution-specific, with information on each project's business need, impact, staffing requirements, and budget. The two technology reports will be submitted to the Legislature's Joint Committee on Information Policy and Technology, pursuant to state statute;
Approved an amendment to UW System's agreement with Huron Consulting Group to assist with implementation of Workday software related to the Administrative Transformation Program. While the amendment increases the agreement with Huron by $5.4 million, a business case analysis determined it is more cost effective for UW System to utilize the budget and planning capabilities of Workday, rather than retrofit the existing budget system;
Approved an amendment to UW System's contract with EAB Global, which current provides its Navigate system to 12 UW institutions to support communication and engagement for students and the campus community. The amendment supports purchase of a new EAB product called Academic Planner, to be utilized by three institutions (UW Oshkosh, Platteville and River Falls) as a pilot program through 2023. Academic Planner creates a clear course-to-graduation pathway that helps students meet their academic goals on time. UW-Milwaukee and UW-Parkside already utilize this tool under their "Moon Shot for Equity" program;
Approved a UW-Madison sponsored research agreement with RxMapper, LLC, a Mayo Clinic spin-off that seeks to better predict patient outcomes. The company will provide the UW-Madison Biotechnology Center with human cheek swab samples to generate DNA sequence data and provide a report on status of mutations of interest. Total funding under the three-year agreement is expected to reach $10 million;
Approved a UW-Madison standard research agreement with eGenesis, Inc., a biotech company with the mission of ending the global transplant shortage and transforming the treatment of organ failure. The two-year agreement, anticipated to exceed $1 million, allows for an animal research study that may include the transplantation of organs and tissues between different species, furthering UW-Madison's reputation for the field of xenotransplantation;
Approved UW-Madison's clinical study agreement with Fate Therapeutics, Inc., a biopharmaceutical company developing cellular immunotherapies for patients with cancer. In this five-year study valued at $3.6 million, UW-Madison's Carbone Cancer Center will explore the safety and effectiveness of the company's novel treatments for B-Cell lymphoma, Chronic Lymphotic Leukemia or B-cell Acute Lymphotic Leukemia;
Heard the midyear Budget-to-Actuals Report which reflects the status of the UW System budget by major areas of activity in comparison to actual for the period of July through December of 2021. The report indicated both revenues and expenses are largely on track with the budgeted figures at this point in the fiscal year; and
Heard the Semi-Annual Report of Gifts, Grants and Contracts for the July-December 2021 period. Total gifts, grants, and contracts for the period were approximately $1.1 billion, a 14.3% increase from the same period in the prior year. Federal awards increased $31.6 million (4.9%) while non-federal awards increased by $106.9 million (33.0%), largely attributed to funds received by UW-Madison from the Wisconsin Alumni Research Foundation.
Capital Planning & Budget Committee
Regents in the Capital Planning & Budget Committee approved UW-Madison's request for authority to complete design and construction of the Biochemical Sciences Coon Lab for an estimated total cost of $2.5 million gift/grant funds. The project renovates 4,520 gross square feet of research laboratory space in the DeLuca Biochemical Sciences Building.
Dr. Joshua Coon, a professor of chemistry and biomolecular chemistry, is a renowned innovator of mass spectrometry technology with more than 100 research collaborations across UW-Madison and the world. His research seeks to answer fundamental questions in cell biology and to study human diseases, including Alzheimer's, diabetes, heart failure, cancer, obesity, asthma, and others.
In other business, the Capital Planning & Budget Committee:
Approved UW-Madison's request for authority to sell a 2.94-acre parcel of land at 6101 Mineral Point Road, the former site of the Veterinary Diagnostic Lab. The sale of this parcel is one of the first being considered for development by University Research Park (URP), with proceeds from any sale or ground lease of the parcel to be invested for the benefit of UW-Madison;
Approved UW-Madison's request for authority to sell a 5.76-acre parcel of land at 5707 Mineral Point Road at the north entrance to the URP, again with proceeds from any ground lease or sale of the parcel to be invested for the benefit of UW-Madison;
Approved UW-Madison's request for authority to complete design and construction of the Rowe WHAM Plasma Physics Lab Electrical and Cooling Upgrade project for an estimated total cost of $1.56 million gift/grant funds. The project upgrades the facility's electrical power and process cooling capacity to ensure support of a fusion energy research project called the Wisconsin High-temperature-superconducting Axisymmetric Mirror (WHAM). WHAM is funded by the U.S. Department of Energy/Advanced Research Project Agency-Energy;
Heard a UW-Madison presentation on "Transforming the Built Environment: UW-Madison Future Facilities Planning Strategy." The presentation included trends in funding, comparisons to peer institutions, and strategic solutions to solve the challenge of aging buildings at the university; and
Heard a report from Senior Associate Vice President Alex Roe on recent Building Commission actions, as well as an update on the 2023-29 Capital Budget process.
Audit Committee
The Audit Committee approved a new Regent Policy Document (RPD), "Youth Protection, Compliance, and Data Collection at UW System Institutions." The RPD will go before the full Board for approval on Friday.
The purpose of the policy is to affirm the Board's expectation that UW institutions consider the full impact and risk involved in conducting precollege and youth activities as well as collecting data on minor participants.
UW System universities offer hundreds of academic and recreational programs/activities to youth (ages 5-18 years) and have operated these activities independently of each other. Historically, youth protection policies existed at the UW System level in both Risk Management and Human Resources. Adoption of a new RPD will establish the first Board policy directing universities to take a holistic approach to youth protection.
In other business, the Audit Committee:
Heard a progress report from Chief Audit Executive Lori Stortz on the Fiscal Year 2022 Audit Plan, as well as a summary of recently issued audits;
Heard an Information Security Update from Chief Information Security Officer Ed Murphy;
Heard an overview by Vice President for Finance Sean Nelson on the external Legislative Audit Bureau report on the UW System's June 30, 2021 Financial Statements.
Research, Economic Development & Innovation Committee
UW-Madison led a presentation in the REDI Committee highlighting the impact of its groundbreaking biotechnology research. Two entrepreneurs were featured: Michael Sussman, a professor of biochemistry at UW-Madison, and Sara Pirnstill, a UW-Madison graduate and site director for Stratech.
Sussman studies plasma membrane receptor proteins and transporters and other components of the signaling pathways that connect the plasma membrane and nucleus in higher plants. His lab also develops and applies new genomic technologies to study the role of these proteins. Sussman is part of a team developing a blood test for predicting colon cancer earlier and more effectively.
Pirnstill, who has a bachelor's degree in biology and zoology, has been with Stratatech since its early founding days, where she previously served as director of biomanufacturing and director of quality assurance. The company manufactures StrataGraft, a synthetic skin graft replacement material for burn victim treatment, which grew from a UW-Madison discovery in 1996.
Research activities at UW-Madison surpass $1.3 billion annually. In the most recent Higher Education Research and Development (HERD) Survey released by the National Science Foundation in December, UW-Madison ranked 8th among all U.S. universities, public or private, for total research expenditures.
In other business, the REDI Committee:
Heard a discussion led by UW-Madison Vice Chancellor for Research & Graduate Education including a review and analysis of current and anticipated research grant activity from both public and private funding sources. The discussion also outlined several potential updates to RPD 13-1 that could add flexibilities for university researchers to be more responsive to industry decision-making timeframes and for UW practices to align more closely with those of peer research institutions. RPD 13-1 requires the Board of Regents to review and approve research grant contracts with values totaling $1 million or more prior to contract execution.
---
The University of Wisconsin System Board of Regents will resume its meeting at 8:45 a.m., on Friday, February 11, 2022, at UW-Madison
UW-Madison Chancellor Blank presents her final report to the Board (day 1 news summary)