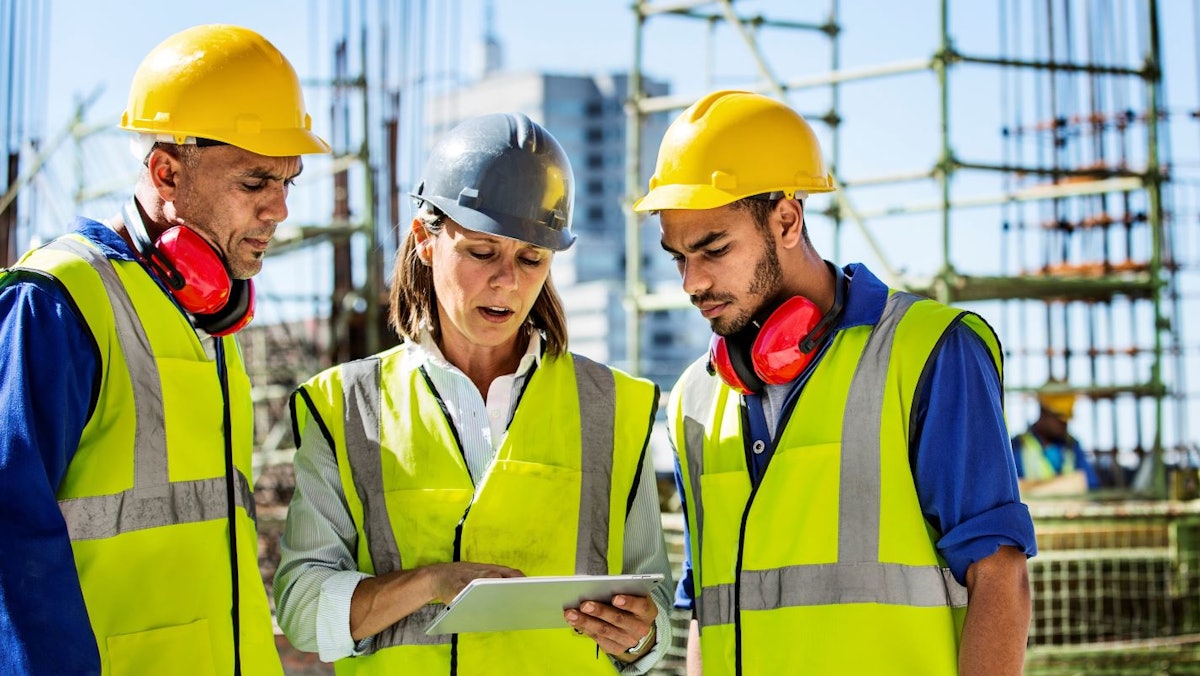 Women in Construction See Digital Transformation as a Top Priority
Association of Equipment Manufacturers
A recent survey shows nearly three-quarters of construction companies see digital transformation as a top priority, with new technologies opening doors for women in the workforce. A joint survey by the National Association of Women in Construction (NAWIC) and Safe Site Check In, and released in celebration of Women in Construction Week, "Digital Technology in Construction: 2022" found digital transformation offers opportunities to enhance productivity, make construction jobs easier and ultimately help to address labor shortages.
"Digital transformation is gaining significant momentum in the construction industry. Along with making work easier without compromising the quality of the finished product, it also opens up more opportunities for women," said Crissy Ingram, executive director, NAWIC. "The survey shows the importance of digital technology and, ideally, its potential to address some of the issues driven by the construction labor shortage."
The NAWIC offers its members education, support and networking to help advance their careers in construction, build their technical skills and become leaders. Members include women builders in the trades, project management, marketing, administration and executive leadership. Safe Site Check In supports construction's digital transformation by providing a customizable and private QR-coded digital check in and screening app and jobsite management platform.
NAWIC / Safe Site Check InThe organizations jointly surveyed participants on a variety of questions about digital transformation, the construction labor shortage and the impact of supply chain disruptions. Participants included 600 NAWIC members throughout the U.S. working in construction at companies with revenues between $500,000 to over $1 billion annually. Survey participants represented all areas of the construction industry across private and public sectors.
Among the key findings:
Digital transformation is a priority at 71% of construction companies
77% of respondents believe digital transformation will make their jobs easier; 17% believe it will have no impact; 5% believe their jobs will be harder and 1% believe it will eliminate their jobs
95% report new technologies designed for the construction industry have enabled them to be more productive
70% of survey respondents were excited about learning new technology at work, while 24% are indifferent and 6% expressed frustration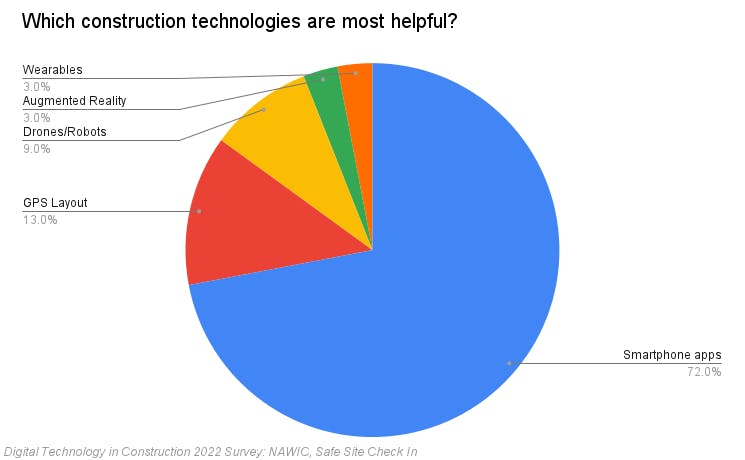 NAWIC / Safe Site Check InWhen asked which of the latest construction technologies are most helpful, 72% of survey participants pointed to smartphone apps for managing projects and the workforce. This was followed by GPS layout (13%), drones and robots (9%) and augmented reality and wearables (both at 3%). 
Impact of Labor Shortages
The majority of survey participants work in the office (52%) or split their time between the office and the jobsite (44%). Just 4% work solely on jobsites.
Those working in the office were less likely to note feeling the impact of jobsite workforce deficits when asked: "In what ways does the construction labor shortage impact your job?" Even so, more than half (53%) stated that projects take longer and 19% stated that days are longer. Just a quarter (26%) said the deficits did not impact their job, and only 2% reported more accidents as a result.
Technology's promise of improved productivity could help to reduce such impacts.
"For a long time, the construction industry has been ripe for disruption – a disruption driven by the need for streamlined, digital approaches to replace outdated processes and protocols that cut into productivity and project profitability," said David Ward, CEO, Safe Site Check In. "Our partnership with NAWIC on this year's survey underscores what we've been hearing for years – digital transformation is a business imperative for the construction industry on the jobsite and in the office."
 Information provided by the National Association of Women in Construction and Safe Site Check In and edited by Becky Schultz.
https://www.forconstructionpros.com/construction-technology/news/22105800/women-in-construction-see-digital-transformation-as-a-top-priority